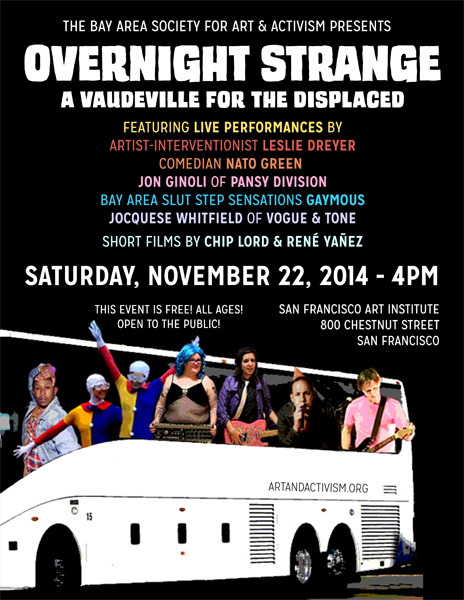 On Saturday, November 22nd the Bay Area Society for Art & Activism presents Overnight Strange: A Vaudeville for the Displaced, a live performance showcase and launch for our membership campaign!
Overnight Strange: A Vaudeville for the Displaced
Saturday, November 22, 2014, 4pm
RAIN OR SHINE!
San Francisco Art Institute, Zellerbach Quad LECTURE HALL
800 Chestnut Street, San Francisco
Featuring: Leslie Dreyer, Nato Green, Jon Ginoli, GAYmous, Jocquese Whitfield, Chip Lord & Rene Yañez,
Joe Talbot & Jimmie Fails
Curated by Katie Anania
This event is free, all ages, and open to the public.
RSVP
Much has been said over the last year and a half about the rapid cultural and economic changes brought to San Francisco by Silicon Valley's new wealth and influence. Evictions. Shutdowns. Start-ups. Seemingly overnight, neighbors and neighborhoods have transformed in strange and unfamiliar ways. At stake is the future soul of a beloved city.
Curated by activist and art historian Katie Anania and taking inspiration from the 1978 remake of Invasion of the Body Snatchers, Overnight Strange brings together a finely-tuned chorus of music, art, and intervention against the disquietude of displacement. The evening includes live performances by artist Leslie Dreyer, comic Nato Green, musician Jon Ginoli of Pansy Division, Bay Area Slut Step sensations GAYmous, and dancer Joquese Whitfield of Vogue & Tone as well as short film screenings by Chip Lord & Renè Yañez, Joe Talbot & Jimmie Fails. Please join us as we laugh out the forces of alienation and dance in the future soul of San Francisco.
Starting at 3:30pm, prior to the event, there will be a reception for the performing artist, members of the Bay Area Society for Art & Activism, and their guests. Food and refreshments will be served. Members, please RSVP by clicking here. Please join us! To learn more about becoming a member, click here.
About the Bay Area Society for Art & Activism
The Bay Area Society for Art & Activism is a diverse and intergenerational community celebrating the way artists and activists engage with issues of social justice, hope, freedom, history, democracy, love, labor, class, the environment and more. Our goal is to cultivate art and activism as vital regional values and to return creative, cultural and monetary resources to Bay Area artists, curators and activists so that they can continue to create the incredible work that makes the Bay Area a beacon of subversive, socially-engaged art and visionary grassroots activism.
Emboldened by the wave of evictions in 2013 and the threat to art and activist communities presented by skyrocketing housing costs, the Bay Area Society for Art & Activism is working with our fiscal sponsor, SOMArts Cultural Center, to expand the reach and scope of our offerings and to deepen the claim of art and activism as essential features of San Francisco's cultural landscape. Join us. Become a member! →
Contact
Elizabeth Travelslight, elizabeth@artandactivism.org
Katie Anania, katie@artandactivism.org
RSVP
No Fields Found.