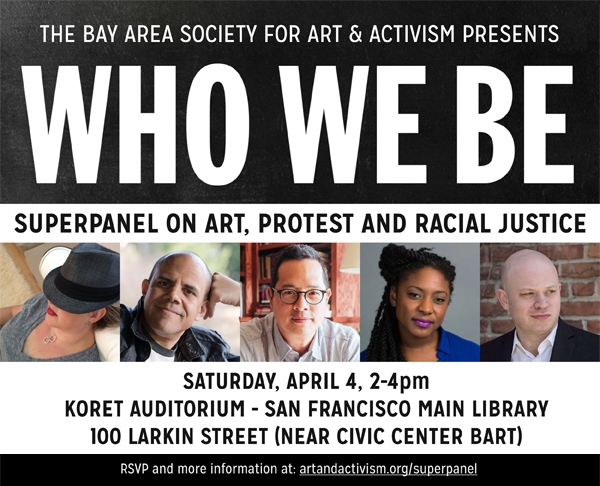 Inspired by Jeff Chang's recently published Who We Be: The Colorization of America, the "Who We Be: Superpanel on Art, Protest and Racial Justice" brings together five phenomenal panelists to discuss the visual culture of protest and current national movements for racial justice.
Featuring: Jeff Chang, Alicia Garza, Ben Davis, Steven W. Thrasher, and Christian L. Frock
Moderated by Elizabeth Travelslight
This event took place on Saturday, April 4, 2015 at the Koret Auditorium – San Francisco Main Library, 100 Larkin Street, in San Francisco, California. This event was free and open to the public. Podcast below and more documentation here →

In Who We Be, Jeff Chang draws upon decades of politics, popular culture, and visual art to describe the recent history of race in America. Chang calls readers' attention to the post-Civil Rights emergence of "multiculturalism" and its subsequent successes and failures, such as the unprecedented election of the United States' first black president with Barack Obama in 2008 and the persistent racial divides that lead to the death of Trayvon Martin in 2012. The book, released last fall in the midst of uprising over the killings of Michael Brown and Eric Garner, re-opens urgent conversations about race in America at a particularly poignant time. Chang looks to visual artists in particular for new visions of America's future as the United States approaches a racial tipping point in 2043 when the country becomes "majority-minority" and whites make up less than half of the national population.
In response to the acquittal of Trayvon Martin's killer, longtime Bay Area activist Alicia Garza, together with co-organizers Patrisse Cullors and Opal Tometi, coined the hashtag #BlackLivesMatter.  Their strategic national organizing around the hashtag embraced and affirmed Black life while raising awareness about the police brutality and systematic racism that discounted black lives every day. A year later, by the time of the non-indictment verdicts for the police officers who killed Michael Brown and Eric Garner, #BlackLivesMatter had captured the world's attention and helped to mobilize the largest national civil rights movement in recent memory.
Ben Davis and Christian L. Frock frequently write about the intersections of art, politics, race and social justice on the East and West Coasts respectively. By the end of 2014, they both readily tackled A. O. Scott's question, "Is our art equal to the challenge of our times?"  and identified generative new terms of engagement for the visual culture of protest and radical art brought forth by the current social justice movements. Davis offered "After Ferguson, A New Protest Culture's Challenge to Art" in the online website artnet News and Frock summed up the year in KQED Arts with "Hell No, We Won't Go: Outstanding Radical Art And Global Movements in 2014".
Meanwhile, fellow writer Steven W. Thrasher had spent last fall jump starting his newly appointed column with The Guardian covering Ferguson and went on to become a leading critical voice in the media during the subsequent protest movements that galvanized cities across the country. His writing consistently forefronts the personal stories of black people and regularly calls out the incompetence of political leaders who fail to address the root causes of racism and white supremacy.
Together, our five panelists have dedicated a tremendous amount of time considering the multitude ways in which race, visual culture, art, protest and the media come together to obstruct or advance the cause of racial justice. Their conversation will be an extraordinary opportunity for artists and activists to assess recent political movements and discuss strategies for creating art that not only equals "the challenges of our times" but provides catalytic visions for a radical new consensus on racial justice.
 Panelist Biographies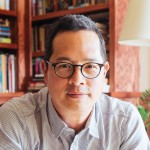 Jeff Chang has written extensively on culture, politics, the arts, and music. His first book, Can't Stop Won't Stop: A History of the Hip-Hop Generation, garnered many honors, including the American Book Award and the Asian American Literary Award. He edited the book, Total Chaos: The Art and Aesthetics of Hip-Hop. His new book, Who We Be: The Colorization of America, was released on St. Martin's Press in October 2014. He is currently at work on two other book projects: Youth (Picador Big Ideas/Small Books series), and a biography of Bruce Lee (Little, Brown). Jeff has been a USA Ford Fellow in Literature and a winner of the North Star News Prize. He was named by The Utne Reader as one of "50 Visionaries Who Are Changing Your World". With H. Samy Alim, he was the 2014 winner of the St. Clair Drake Teaching Award at Stanford University. Jeff co-founded CultureStr/ke and ColorLines. He has written for The Nation, the New York Times, the San Francisco Chronicle, The Believer, Foreign Policy, N+1, Mother Jones, Salon, Slate, Buzzfeed, and Medium, among many others. Born and raised in Honolulu, Hawai'i, he is a graduate of 'Iolani School, the University of California at Berkeley, and the University of California at Los Angeles. He currently serves as the Executive Director of the Institute for Diversity in the Arts at Stanford University.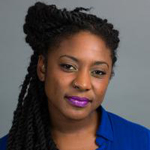 Alicia Garza is the co-founder of Black Lives Matter. The movement began with the online hashtag, #BlackLivesMatter, and grew into a national organizing project that is an affirmation and embrace of the resistance and resilience of Black people. She is currently the Special Projects Director at the National Domestic Workers Alliance and previously served as Executive Director of People Organized to Win Employment Rights (POWER) in San Francisco, CA. She has been the recipient of multiple awards for her organizing work in Black and Latino communities including the Local Hero award from the San Francisco Bay Guardian and the Jeanne Gauna Communicate Justice award from the Center for Media Justice in 2008. She has twice been honored by the Harvey Milk Democratic Club with the Bayard Rustin Community Activist award for her work fighting gentrification and environmental racism in San Francisco's largest remaining Black community. Alicia currently serves on the Board of Directors for the School of Unity and Liberation (SOUL) in Oakland, California, and is a contributing writer for WarTimes magazine. She serves as trusted counsel for organizations across the country looking to build their capacity to lead and win organizing campaigns. When she's not scheming on freedom, Alicia enjoys dancing, reading and writing—and scheming some more.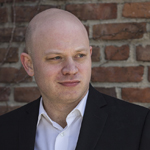 Ben Davis is the author of 9.5 Theses on Art & Class (Haymarket, 2013) which received wide critical acclaim, including a nomination for Best Work of Criticism from the International Association of Art Critics. He was previously executive editor of Blouin Artinfo and is currently National Art Critic for artnet News and critic in residence at Montclair State University. His writings have appeared in Adbusters, Artinfo.com, Art Papers, C Magazine, The Brooklyn Rail, Frieze, Slate.com, The Village Voice, and many others. He lives in New York City. Twitter: @benadavis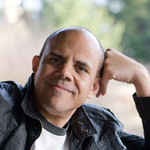 Steven Thrasher is a Writer-At-Large for the Guardian, where he writes features, arts essays and a weekly column on politics. He is also a Henry M. MacCracken doctoral fellow in American Studies at New York University and a board member of the American Sociological Association's journal Contexts. Steven was named a 2014 "Game Changer" by Mused Magazine for his BuzzFeed coverage of HIV criminalization and his Guardian coverage of Black Lives Matter, and he was named Journalist of the Year 2012 by the National Lesbian and Gay Journalists Association for his writing in Out, the Village Voice and the New York Times. His work was included in Gawker's "Best Posts of 2013" and in the bestselling book Mom: A Celebration of Mothers from StoryCorps. The recipient of a 2010 Courage Award from the Anti-Violence Project, a 2011 James Aronson Award for Social Justice Journalism from Hunter College, and a 2011 Feature Writing Award from the Association of Alternative Newsweeklies, Steven is a frequent commentator on race and sexuality for NPR, the BBC, Al Jazeera America and Democracy Now! In 2015, Steven wrote the liner notes for the forthcoming Decca Records album Valentina Lisitsa Plays Philip Glass. Twitter: @thrasherxy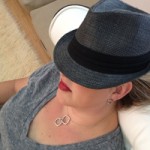 Christian L. Frock is an independent curator, writer and educator based in the San Francisco Bay Area. Her work focuses on the role of artists in social justice and public life. She is a regular contributor to KQED Arts, San Francisco Arts Monthly and the San Francisco Chronicle, among other publications. Frock's 2014 essays for KQED's Priced Out series, exploring the impact of shifting wealth, displacement and gentrification on the Bay Area art community, was included in critic Ben Davis | artnet news' list of "The Most Important Essays of the Year." Her essay on site-specificity is featured in the new title Unexpected Art (Chronicle Books) and she is presently working on a historical survey of women artists at work in public space for Mills Art Museum for fall 2015. Frock is currently visiting faculty at California College of the Arts and San Francisco Art Institute. Her work is archived on www.invisiblevenue.com and www.visiblealternative.com. (Photo by Aaron Stienstra)
About the Bay Area Society for Art & Activism
The Bay Area Society for Art & Activism is a diverse and intergenerational community celebrating the way artists and activists engage with issues of social justice, hope, freedom, history, democracy, love, labor, class, the environment and more. Our goal is to cultivate art and activism as vital regional values and to return creative, cultural and monetary resources to Bay Area artists, curators and activists so that they can continue to create the incredible work that makes the Bay Area a beacon of subversive, socially-engaged art and visionary grassroots activism.
Emboldened by the wave of evictions in 2013-14 and the threat to art and activist communities presented by skyrocketing housing costs, the Bay Area Society for Art & Activism is working with our fiscal sponsor, SOMArts Cultural Center, to expand the reach and scope of our offerings and to deepen the claim of art and activism as essential features of San Francisco's cultural landscape. Join us. Become a member! →
Contact
Elizabeth Travelslight, elizabeth@artandactivism.org
Dorothy Santos, dorothy@artandactivism.org