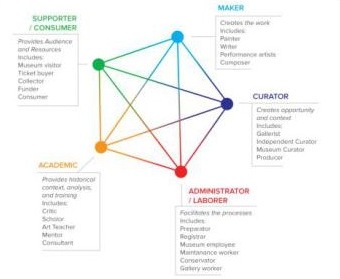 Across the Bay Area, artists are responding to the increasing challenges to our livelihood by getting organized. Two groups in particular are working hard to leverage the power of data to improve conditions for local artists.
Arts Advocacy Coalition
Since early 2014, A Simple Collective (ASC) and 14 Black Poppies have been collaborating to build the Arts Advocacy Coalition, "a place of convergence for advocacy efforts in the art sector." The coalition aims "to create a cohesive voice for the arts sector" for "artists, arts professionals, and organizations in the San Francisco Bay Area." The Arts Advocacy Coalition resulted from ASC and 14 Black Poppies's creation of the "State of the Arts" Census to collect vital data about the local creative community. They launched their first survey in 2014 and are relaunching a new survey in 2015.
A Simple Collective, founded by Rhiannon MacFadyen, is a San Francisco-based contemporary arts organization comprised of artists and creative professionals dedicated to supporting community by providing access to resources. Learn more at : http://asimplecollective.com

14 Black Poppies was founded by Jason Wyman and Margaret Bacon Schulze in June 2011 to bring "arts, wellness and community together into new workshop formats that honor intergenerational, intercultural, and interfaith learning and experiences." Learn more at: http://www.14blackpoppies.com

The Bay Area Artists Report
This February, our friends at The Compensation Foundation initiated a variety of local potlucks to gather people and data together for their Bay Area Artists Report. Similar to the work done by NYC based W. A. G. E. (Working Artists for the Greater Economy), the survey and report are "an effort to gather and make apparent how visual artists working in the Bay Area are compensated, what they value most, and what hurdles they face."
The Compensation Foundation is a public, online, platform for collecting, sharing, and analyzing how contingent workers (freelancers, contract workers, creative professionals, permalancers) are compensated. Learn more at: http://compensationfoundation.org
---
Subscribe to Art & Activism Quarterly by clicking here. Better yet, join us! Become a member and support this precious Bay Area cultural resource. Learn more →