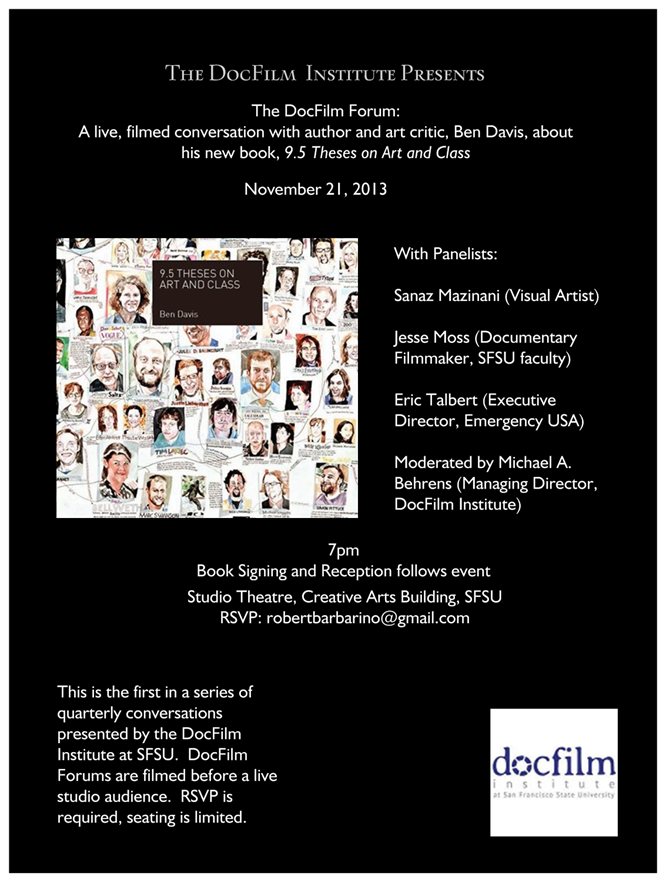 The Bay Area Society for Art & Activsm is please to announce that San Francisco State University's DocFilm Institute is hosting a private, filmed conversation with author & art critic Ben Davis.
7 pm November 21, 2013
Studio Theater, Creative Arts Building
San Francisco State University
DocFilm's Managing Director, Michael A. Behrens, will moderate the initial conversation, with a panel discussion and audience Q&A to follow. The panel will consist of Eric Talbert (Executive Director, EMERGENCY USA), Sanaz Mazinani (Visual Artist), and Jesse Moss (SFSU Faculty & DocFilm Resident filmmaker). This event is the first in a series of quarterly conversations presented by the DocFilm Institute, and recorded in front of a live studio audience. DocFilm would like to formally invite you to join the intimate audience of 80 people.
We are looking for an audience that is both engaged and interested in the subject matter, which will focus on class and the place of politics in art. Since seats are limited, please respond as soon as possible. Following the conversation and audience Q&A, there will be a reception held during which time individuals are invited to purchase Ben's new book with an opportunity to get it signed by the author.
In 9.5 Theses on Art and Class, Ben Davis takes on a broad array of contemporary art's most persistent debates: How does creative labor fit into the economy? Is art merging with fashion and entertainment? What can we expect from political art? Davis argues that returning class to the center of discussion can play a vital role in tackling the challenges that visual art faces today, including the biggest challenge of all—how to maintain faith in art itself in a dysfunctional world.
(Reposted from docfilminstitute.org)