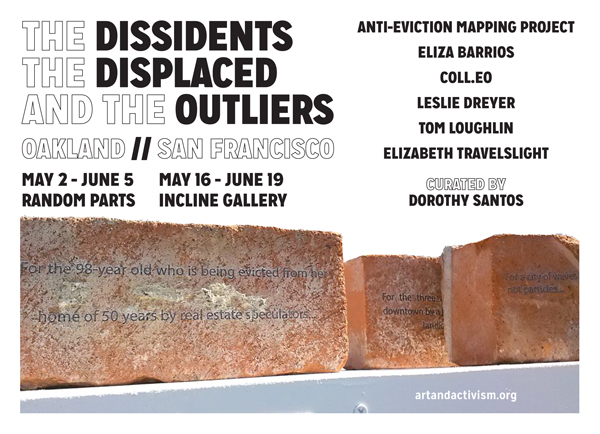 From Saturday May 2nd to Friday, June 19th the Bay Area Society for Art & Activism in partnership with the Electronic Frontier Foundation, Random Parts, and Incline Gallery will present The Dissidents, the Displaced, and the Outliers, a transbay visual art exhibition about housing security and digital privacy at Random Parts in Oakland and Incline Gallery in San Francisco. Curated by Dorothy R. Santos, the exhibition will feature work in both venues by Anti-Eviction Mapping Project, Eliza Barrios, COLL.EO, Leslie Dreyer, Tom Loughlin, and Elizabeth Travelslight.
In The Dissidents, the Displaced, and the Outliers, Bay Area artists offer a collection of work about the convergence of privacy and gentrification unique to the Bay Area, in particular the impact of surveillance technology and the digital economy on housing security and how affluence secures both privacy and housing.
Exhibitions Dates and Locations

OAKLAND
May 2 – June 5, 2015
Random Parts
1206 13th Avenue, Oakland, CA
Opening reception: Saturday, May 2 • 4-8pm

SAN FRANCISCO
May 16 – June 19, 2015
Incline Gallery
766 Valencia Street, San Francisco, CA
Opening reception: Saturday, May 16 • 5-9pm

Outdoor Film Salon
Saturday, May 9
7-9pm @ Random Parts
1206 13th Avenue, Oakland, CA

EFF Digital Privacy Workshop
Saturday, May 23
2-4pm @ Random Parts
1206 13th Avenue, Oakland, CA

Closing Panel Discussion
Sunday, June 14
4-6pm @ Incline Gallery
766 Valencia Street, San Francisco, CA
All events are free, all ages, and open to the public. RSVP →
Historically, the artist has served as a figure who illuminates what is emblematic of the times serving as a luminary that provides the necessary historical, political, and cultural contexts that explains the significant shifts and changes within an environment. Since the emergence of dotcom businesses of the late 1990s, Bay Area residents have witnessed the rise and fall of the initial technology driven economy. The resurgence of online businesses and explosion of start-ups have resulted in exponential growth of the tech workforce across industry-leading companies such as Google, Facebook, and Twitter.
This two-city parallel exhibition aims to open conversation about these topics on both sides of the Bay and is supported by free, public programming, including an outdoor film salon, a panel discussion with organizational partners and artists, and a workshop on digital privacy. These free community events enable visitors to delve further into the exhibition themes and be in dialogue with artists and community leaders.
Public Programming
Outdoor Film Salon – Random Parts – May 9 • 7-9pm
The selection of short documentaries and artistic works shed light on the effects of gentrification on Bay Area residents and the stories behind the those that have been evicted as well as works reflecting on how technology and our connectivity to the rest of the world, quite literally, leaves many behind without resources and more questions in order to survive.
EFF Digital Privacy Workshop – Random Parts – May 23 • 2-4pm
This special workshop led by our friends at the Electronic Frontier Foundation, a leading "nonprofit organization defending civil liberties in the digital world" aims to share knowledge and provide insight on encryption, data security, and the importance of digital privacy.
Closing Panel Discussion – Incline Gallery – June 14 • 4-6pm
Our special guests and esteemed panelists Nadia Kayyali (EFF), Erin McElroy (Anti-Eviction Mapping Project), Katherin Canton (Youth Arts Exchange and EAP), and Valeria Gress (Youth Arts Exchange Artist) have graciously accepted an invitation to present their experiences, observations, and work around the themes of the exhibition.
Exhibition Partners
Bay Area Society for Art & Activism – The Bay Area Society for Art & Activism is a diverse and intergenerational community celebrating the way artists and activists engage with issues of social justice, hope, freedom, history, democracy, love, labor, class, the environment and more. Our goal is to cultivate art and activism as vital regional values and to return creative, cultural and monetary resources to Bay Area artists, curators and activists so that they can continue to create the incredible work that makes the Bay Area a beacon of subversive, socially-engaged art and visionary grassroots activism. Emboldened by the wave of evictions in 2013 and the threat to art and activist communities presented by skyrocketing housing costs, the Bay Area Society for Art & Activism is working with our fiscal sponsor, SOMArts Cultural Center, to expand the reach and scope of our offerings and to deepen the claim of art and activism as essential features of San Francisco's cultural landscape.
Electronic Frontier Foundation – The Electronic Frontier Foundation is the leading nonprofit organization defending civil liberties in the digital world. Founded in 1990, EFF champions user privacy, free expression, and innovation through impact litigation, policy analysis, grassroots activism, and technology development. We work to ensure that rights and freedoms are enhanced and protected as our use of technology grows. Even in the fledgling days of the Internet, EFF understood that protecting access to developing technology was central to advancing freedom for all. In the years that followed, EFF used our fiercely independent voice to clear the way for open source software, encryption, security research, file sharing tools, and a world of emerging technologies. Today, EFF uses the unique expertise of leading technologists, activists, and attorneys in our efforts to defend free speech online, fight illegal surveillance, advocate for users and innovators, and support freedom-enhancing technologies.
Random Parts – Random Parts is an artist–run project space based in a small storefront in the Eastlake neighborhood of Oakland, California. Our vision is to give international, national and local multidisciplinary artists a platform without distinctions among well-known, self-taught and underexposed. We believe that these value judgments are a product of the commercial and educational art systems which emphasize career strategies rather than the complexities of a sustained art practice. By leveling the playing field, we see Random Parts as an equalizer – aiming to showcase provocative and challenging art in an approachable environment in hopes of engaging the public and promoting critical thinking, dialogue, and risk taking.
Incline Gallery – Incline Gallery is an alternative art space that fosters relationships between community and artists. We create opportunities for emerging as well as established artists to exhibit in a non-cube format that challenges and encourages experimentation in exhibition design. Our role continues to expand by facilitating outside curators, international exchanges and partnerships within a community-based organization.
Contacts
Bay Area Society for Art & Activism – Dorothy R. Santos, dorothy@artandactivism.org and Elizabeth Travelslight, elizabeth@artandactivism.org
Electronic Frontier Foundation – Nadia Kayyali, nadia@eff.org
Random Parts – Colleen Flaherty and Juan Carlos Quintana, partsrandom@gmail.com
Incline Gallery – Christo Oropeza, christo@inclinegallerysf.com