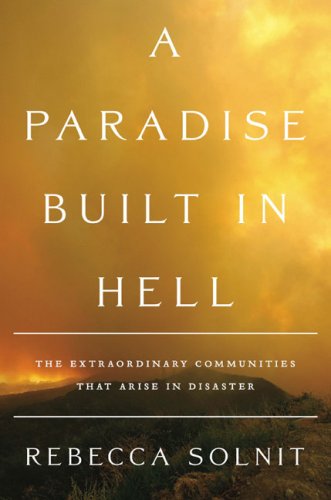 "This is a paradise of rising to the occasion that points out by contrast how the rest of the time most of us fall down from the heights of possibility, down into diminished selves and dismal societies. Many now do not even hope for a better society, but they recognize it when they encounter it, and that discovery shines out even through the namelessness of their experience. Others recognize it, grasp it, and make something of it, and long-term social and political transformations, both good and bad, arise from the wreckage. " –Rebecca Solnit
The next meeting of our Art & Class Discussion Group will be at 4pm on Saturday, March 15 at the newly opened Random Parts gallery: 1206 13th Avenue, Oakland, CA 94606. Thanks Carlo for hosting!
Our discussion will be framed around Rebecca Solnit's A Paradise Built in Hell: The Extraordinary Communities that Arise in Disaster and continue conversations inspired by:
Reading is suggested but by no means required. Our discussion group is an opportunity for fun and thoughtful dialogue with other locals interested in the lively entanglements of class, creativity, art, and social justice. I'll also be providing an update on progress for the Bay Area Society for Art & Activism. Bring a small snack to share if you like and feel free to forward this invite to any interested friends. RSVP to me: elizabeth@artandactivism.org
Hope to see you there!
All best,
Elizabeth