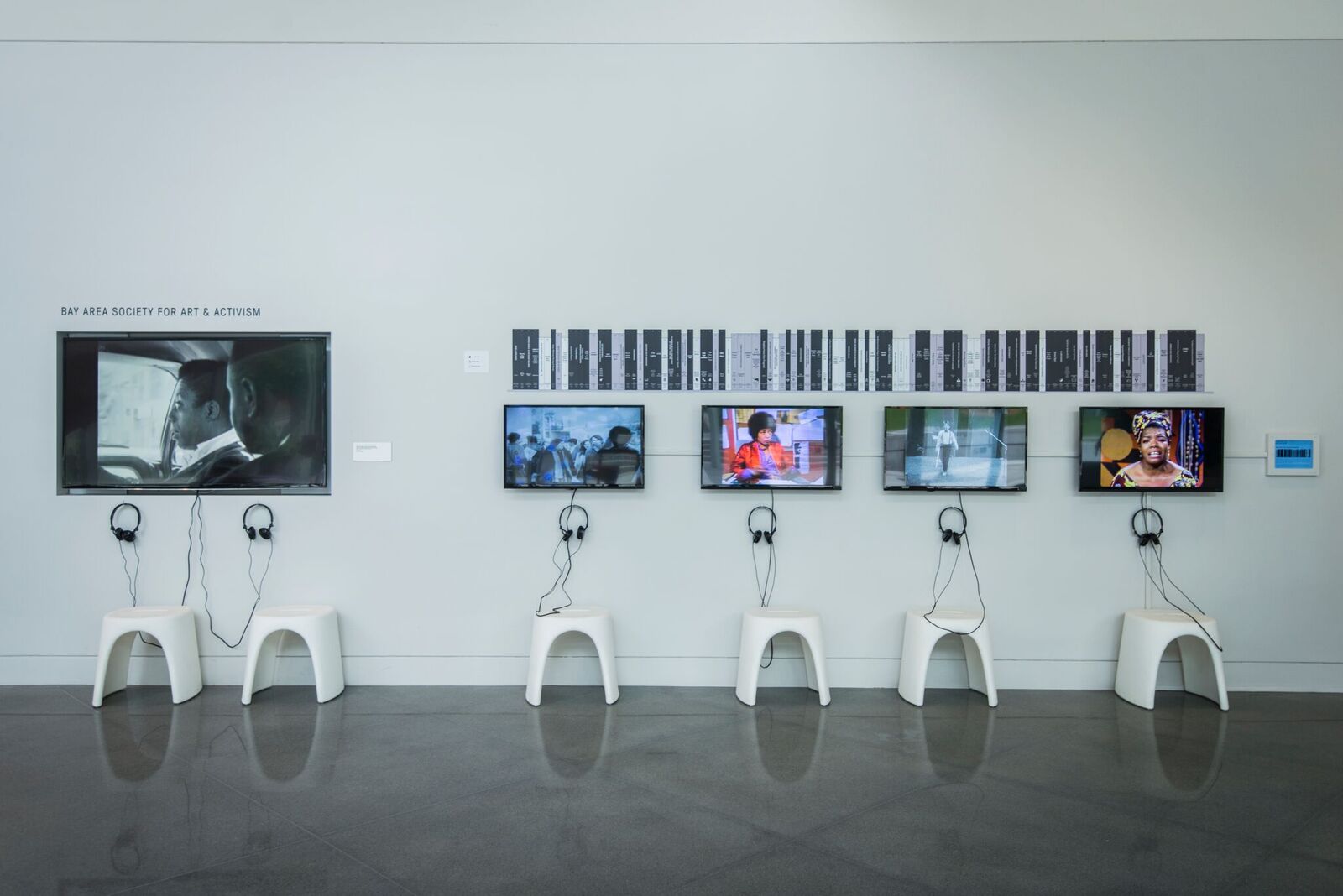 As part of Yerba Buena Center for the Art's exhibition Take This Hammer: Art + Media Activism from the Bay Area (March 11 to August 14, 2016), the Bay Area Society for Art & Activism has curated a selection of short documentaries to accompany the director's cut of of WNET/KQED's 1963 documentary Take This Hammer (featuring James Baldwin and directed by Richard O. Moore).
In selecting accompaniments to Take This Hammer, we first considered the folklore behind the film's title and then sought companion works that would elaborate upon Baldwin's analysis of race and geopolitics with equally resonant clarity. The result is a collection of late twentieth century film and television documentaries that demonstrate a particular tenor of freedom strategies rooted in the African American Civil Rights Movement and San Francisco's countercultural traditions.
Included in the five monitor display in the Grand Lobby are:
Take this Hammer (the Director's Cut) featuring James Baldwin and directed by Richard O. Moore, 1963. (59:13 minutes)
Writer and activist James Baldwin tours San Francisco with KQED's mobile film unit to uncover the realities of the African American experience. He speaks openly with members of the African American community and addresses the facts of racism in America with poetic candor.
On Strike! (At SF State) by Saul Rouda and David Dobkin with SF Newsreel, 1969. (19:41 minutes)
SFSU's Third World Liberation Front coordinates collective action to make groundbreaking demands for robust Black and Ethnic Studies programs. Despite brutal police violence the strike ultimately succeeds to lay the foundation upon which current Bay Area and US grassroots social justice activism rests.
Western Exposure – Angela Davis: Walls into Bridges featuring Angela Davis and directed by Ed Guerrero (BAVC), 1979 (29:16 minutes)
Viewers witness one consequence of the '68 SFSU strike with the hiring of Professor Angela Davis who would go on to influence the work of activists worldwide for decades to come. We observe Professor Davis in conversation with Baldwin and in the classroom with her students, combining music, politics, and theater.
The Farm by Mike Kavanaugh, MaryEllen Churchill, and Kathy Katz, 1995. (47:00 minutes)
A wedge of SF land is transformed into fertile ground for a progressive counterculture community. Growing food and small livestock in the midst of the city brings together an emblematic community of families, artists, and activists in way made increasingly rare by the steady march of land speculation.
The conclusion of Dr. Maya Angelou's 1968 series for KQED. Each episode is a multimedia composition addressing African American identity in American society through music, poetry, literature, dance, drama, and visual art. The spare production style makes for an intimate encounter with Dr. Angelou as she champions the creative legacy of Black Americans and urges viewers to brings this force to bear in their everyday lives.
Access to the videos is free and open to the public in the Grand Lobby, Yerba Buena Center for the Arts, 701 Mission Street in San Francisco.
Special thanks to the Bay Area Video Coalition, the Bay Area Television Archives, Matt Sussman, Alex Cherian, and Saul Rouda for sharing their wonderful resources with us.
---
Subscribe to Art & Activism Quarterly by clicking here. Better yet, join us! Become a member of the Bay Area Society for Art & Activism and support this precious Bay Area cultural resource. Learn more →