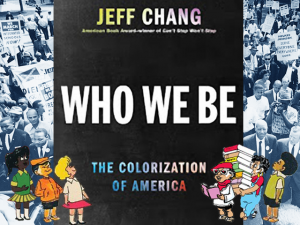 Starting on February 8 the Art & Activism Book Club will be facilitating Jeff Chang's recently released Who We Be: The Colorization of America.
Written by the historian best known for 2005's Can't Stop Won't Stop: A History of the Hip-Hop Generation, Who We Be presents the dynamic relationships among visual culture, race, and social change in the United States. Chang traces threads of art, popular culture, and politics from the emergence of 1960s multiculturalism through to the unlikely election of Barack Obama and the violent killing of young Trayvon Martin. Chang offers the argument that artists cultivate the cultural conditions that make political change possible: "They help people to see what cannot yet be seen, hear the unheard, tell the untold. They make change feel not just possible, but inevitable. Every moment of major social change requires a collective leap of imagination."
In addition to hosting a couple of our usual book club potluck gatherings, the Bay Area Society for Art & Activism is proud to unveil our newly minted Art & Activism Think Tank, an online bulletin board for fostering self-paced discussion about the book.
Who We Be is ambitious in its scope, an impressive gathering of a wide range of artists of color, with their creative interventions and politically charged war stories. Chang is an artful narrator, who uses biographical detail, personal texture and historical and political context to bring his stories to life. -Tricia Rose
You can read Tricia Rose's review of the book for the New York Times here →
Or listen to Jeff Chang in conversation about the book with local comedian Nato Green here →
Book Club Schedule
Meet the Author: Saturday, Jan 31, 11am-1pm Learn more →
Reading and Online Discussion Period: Ongoing Learn more →

In Person Meet-ups
Saturday, Feb  21, 2-4pm – "Who We Be Realtime Teatime Potluck": Location TBD
Saturday, April 4, 2-4pm – "Who We Be: Superpanel on Art, Protest, and Racial Justice" San Francisco Public Library-Main Branch, Koret Auditorium Learn more →
Interested participants should complete and submit the registration form. Registered book club participants will receive login, password and orientation information for the Art & Activism Think Tank where online facilitators will be offering discussion prompts. Registration is FREE to all members of the Bay Area Society for Art & Activism. Non-members are encouraged to make a suggested donation of $5-$25 dollars by clicking here →  No one turned away for lack of funds. Registration is first come first served. Please direct any questions to Elizabeth Travelslight: hello[at]artandactivism[dot]org.